My wife and I have owned Shetland Sheepdogs since 1976. We acquired our fourth from Breyston Shelties on June 8, 2013. I am compelled to write this testimonial and recommendation for Breyston's for anyone considering a Shetland Sheepdog because I am extremely pleased with every aspect of this dog's pedigree and breeder, Pat Dody.
Although Breyston Shelties is not really a breeding kennel, Pat occasionally offers dogs as pets after a thorough vetting of perspective owners. We got our dog on his six-month birthday. He is a tri-color male, who is 15.5 inches at the shoulder and twenty pounds. His height and weight have been the same for the last three months, so I believe this will be his adult stature, which exactly what Pat predicted when we got him.
Cade, his call name for Cadence, is an extremely good example of the Shetland Sheepdog breed; by far the best I have owned He has a wonderful disposition and is extremely intelligent. He possesses great athleticism and agility. His social skills are also outstanding. We live on a secluded pine forest area with a centrally located six-acre pond. We have six neighbors, with a total of nine dogs in residence. Cade's canine neighbors include four Labrador Retrievers, two Papillions, and two Shih Tzus. These dogs share the common shore of the pond and most of them interact with each other daily. Cade is a newer member of the pack and was assimilated without incident within just a few days of his arrival. He now works twice a day with the one of the Labs who is being trained to retrieve ducks. In January Cade will begin herding and agility training with a local Australian Shepard breeder.
I retired right after we got Cade and now look forward to many years here with Cade at my side. A wonderful companion who has quickly become an integral part of our everyday life.
Joseph P. Palestina, Jr.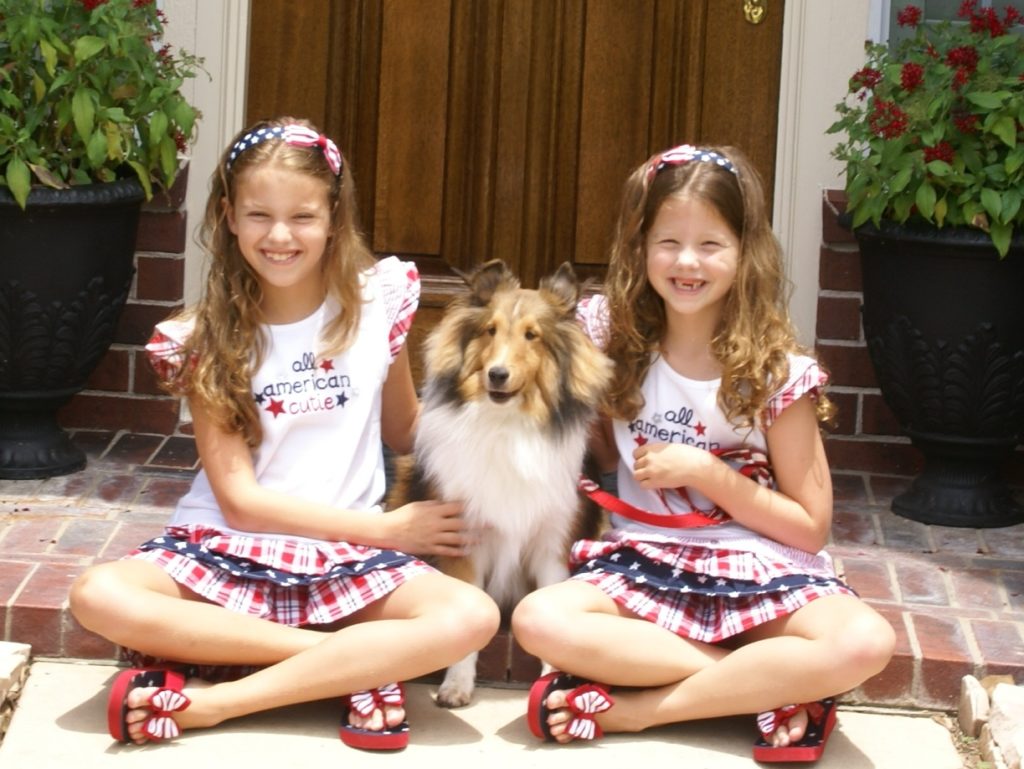 ---
We lost our 12 year old Sheltie on April 27th. There was a void that needed to be filled and I started looking for a Sheltie breeder. Our first Sheltie was not direct from the breeder (which I don't recommend) and I wanted to find a healthy, happy new Sheltie to join our family.
I found Breystone Shelties and starting communicating with Pat Dody. I had a good feeling about Pat from the start because I could tell how much she loves her dogs. We arranged to meet Pat on June 17th to meet Tripp, a gorgeous 9 month old boy. Pat welcomed us in to her home like we were old friends and it was so much fun to see the happy, friendly dogs, obviously loved like family members. I was amazed at how she could tell the puppies apart and at only 9 weeks old knew their personalities and treated each one like the only one.
Pat agreed to place Tripp with us and we went to her house on June 23rd and she had everything ready. I worried about Tripp leaving Pat because we could tell how much he loves her, and her him. But, Pat assured me he would love his new family. We talked about lots of grooming details and went over his diet and routine and, as much as I was excited to bring Tripp home, I really didn't want to leave. We thanked Pat and she put Tripp in my arms and it was emotional.
Meeting Pat and getting Tripp has been such a wonderful experience. We have a beautiful, healthy, downright bouncy little boy and we've made a new friend. We have plans for another Sheltie from Pat's gorgeous dogs. Not only are they healthy and beautiful, they are just AWESOME dogs!!!! Meeting Pat has been a win-win. We have a new family member and a new family friend!
Donna Hunt & Family
Proud parents of 'PaRay's Destination' Charles Tripp Hunt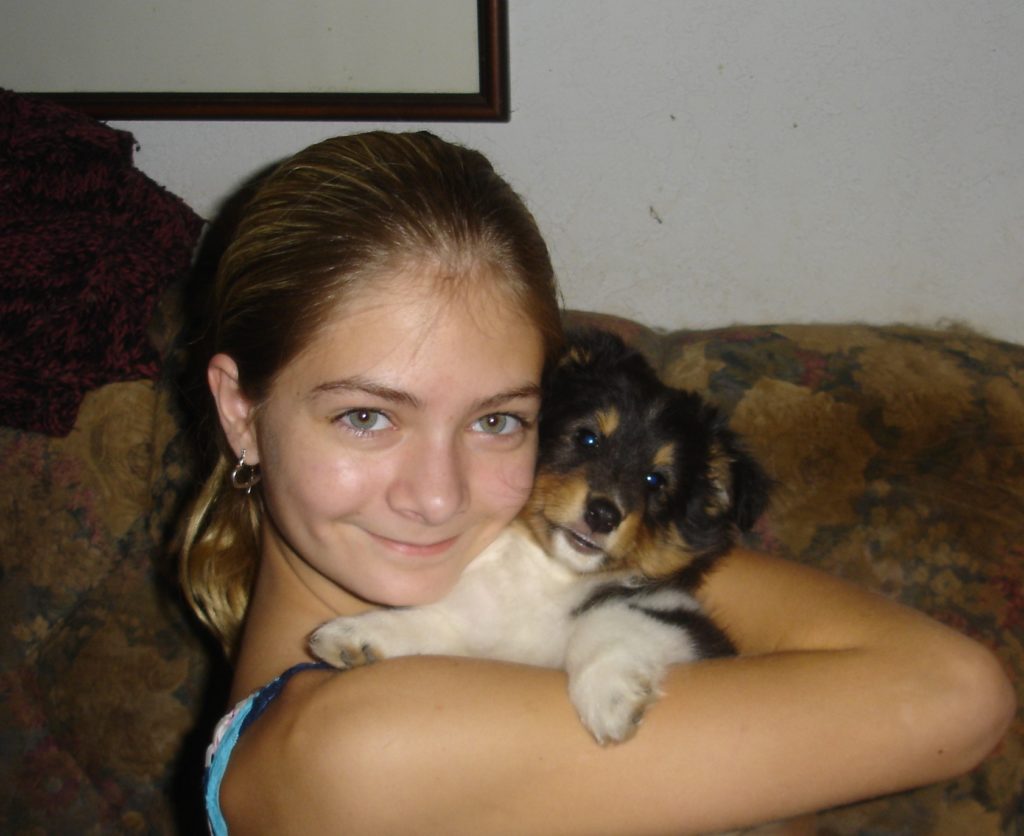 ---
I began my search for a sheltie so my daughter would experience the joy of sheltie ownership.
I had previously owned several shelties who had since passed away over 10 years prior. I had no contacts so I searched by internet for a Christmas puppy. I was so fortunate to find Pat Dody of Breyston Shelites. My daughter fell in love with her Tri-color girl and we named her Midnight Star of Breyton. She has been a shinning star in our home every since. I wanted a quality pet from a quality breeder and I found both. I would not hesitate to recommend Pat Dody and her Breyston Shelties.
A welcome bonus was the family bond that we now share through our shelties.
We even received a Christmas card from Pat of all her dog family including Star's mother all wearing Santa Claus hats. It makes a difference to own a pet from a quality home and breeder.
Sincerely,
Vikki and Brooke Bowman of Baytown, Texas
Dear Pat,
Marissa and I want to thank you for our beautiful babies, Kit Kat and Konner Bear. Being the smallest and the largest, we have our hands full of fun, l laughter, love and entertainment 24/7! Konner has gone through obedience training with flying colors and Kit will go through it next, with Sgt. Marissa!
We hope that Konner and Marissa will do agility together and we know that we have many years of love to give and receive with these two precious puppies! We love them & you!
Pam & Marissa Harris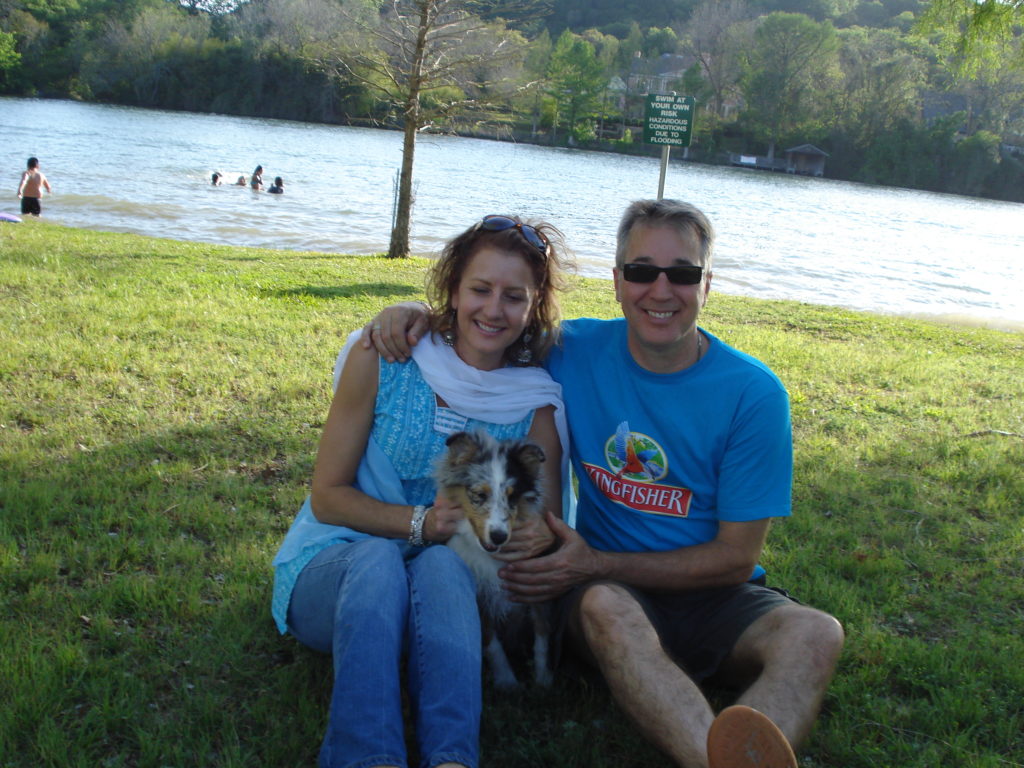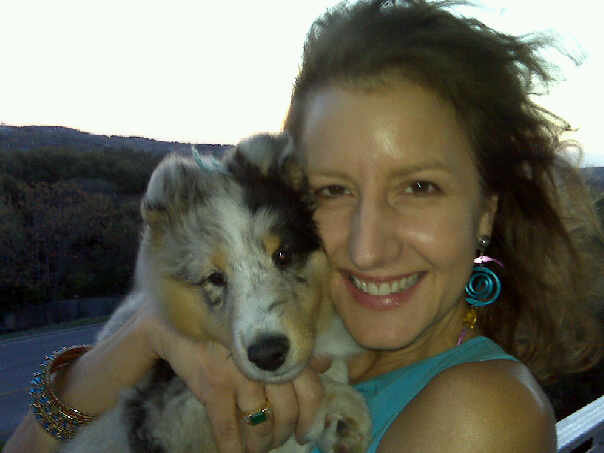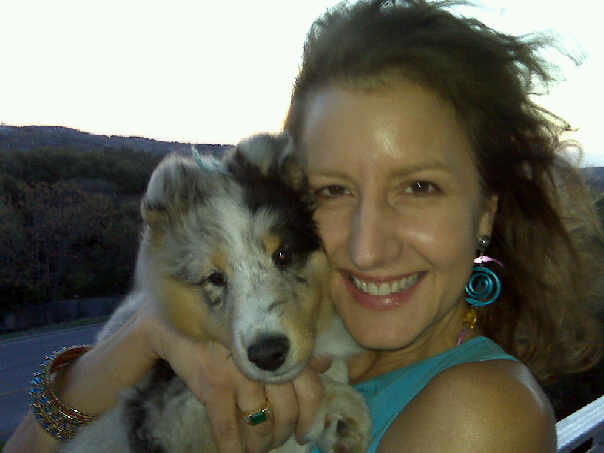 ---
Thank you for allowing us the opportunity to adopt the loveable Sheltie puppy we know as Teryn. We have had Shetland Sheepdogs as pets for many years, but none as beautiful as this blue merle girl. As she just passed her 6 month birthday, we are thankful to be blessed with such an amazing dog.
She not only has the most spectacular coloring that we have ever seen, but she is smart and healthy and has a great little personality. Actually her personality is not little…it's BIG! And it fits her charming way so well.
It is obvious that she has very strong blood lines and is show dog quality. Your breeding is top notch. And we could tell instantly that her first several months were filled with love and play, which has produced a very well adjusted dog. She enjoys playing with children, other dogs of all sizes and breeds, and does well with quiet time at home too.
I highly recommend anyone looking for a Sheltie to adopt a Breyston Sheltie. They are some of the best and well worth the investment. You will not be disappointed.
Thank you, Pat!
Sincerely,
Kathleen Evans & Steve Spada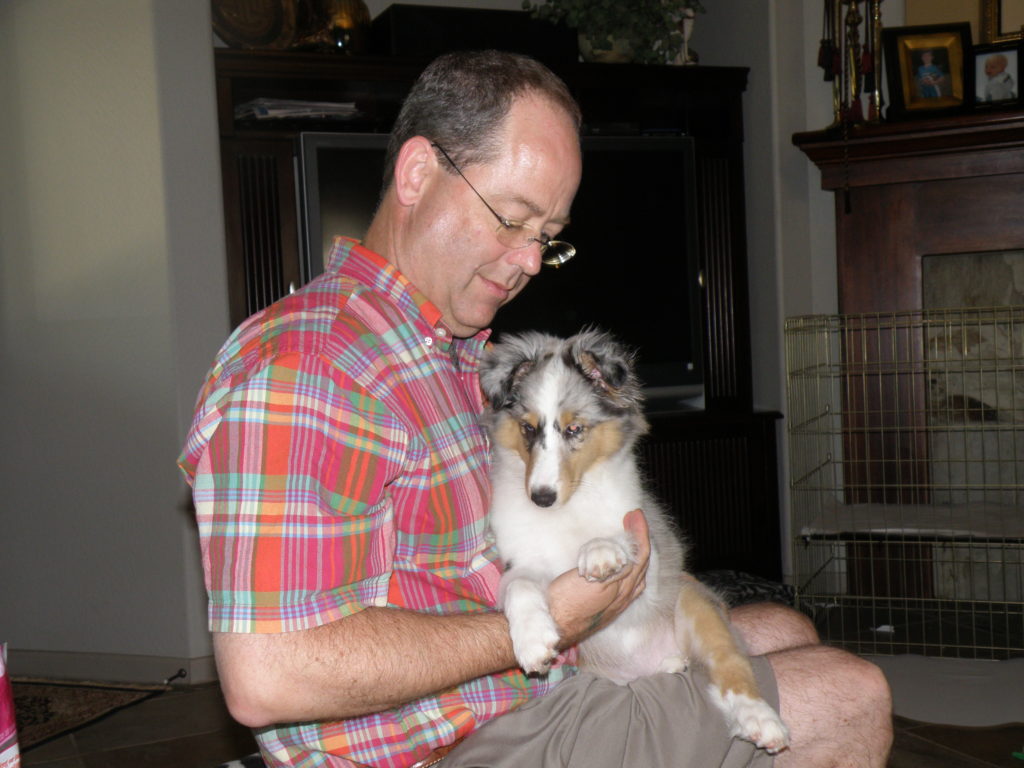 ---
Thank you Pat for letting me adopt Ciaran, formerly and sometimes referred to as Kherington. Having had Shelties in the house for the previous 12 years and then suddenly with none, she is a blessing and bright moment every day. She was obviously well socialized with people and other dogs and well taken care of when I took her home. Her personality is open and curious when around new people or new dogs. I was looking for a wonderful, superior pet quality little girl and am extremely happy with this little blue merle girl. She has decided that everything in the house is hers including me, but she can have things her way. At six months, she just gets cuter and more huggable every day. I was fortunate to find a quality breeder in Breyston Shelties and would recommend others to look to you for their next pet quality or show quality best friend and companion.