Hello Sheltie Lovers,
I am one of you too.  I have had shelties for over 30 years.  They are by far the sweetest dogs I have ever owned.  My tri colored sheltie is named Coco.  She just turned 11.  I bought her and her brother from an ad in the Houston paper when they were 8 weeks old.  They were best friends and had so much fun playing together.   I lost Coco's brother, Onyx, when he was 5.  He had a rare lung disease and died on the table while the doctor examined him.  Coco and I were shocked and so sad without him.  I did some research on the web and found Pat.  I called her to see if she might have a 5 year old pup that could I could buy so Coco would not be alone.  She told me about Alexia and sent me photos.  I was so excited to go meet her.  Upon opening Pat's front door, I was greeted by many adorable and beautiful shelties of all ages.  I immediately knew Pat was the real deal and not someone trying to make some money selling puppies.  Coco, is a bit large for a sheltie but she is a love.  Alexia, I call her Lexie, looks like a show dog and has the sweetest temperament.  Pat was reluctant to sell her to me due to their bond but I promised I would take good care of her.  We both had tears in our eyes as I took her home.  She has been a delight ever since.  Lexie and Coco are best pals now.  They love to play together and love their walks too.  There is not a day that passes that I do not get stopped and told how beautiful they are!  Their favorite place to be outside is on my driveway so they can see what is going on.  Lexie is very agile and loves to jump in circles at my iron gate as she greets everyone that stops by.  They sleep inside at the foot of my bed and are very protective.  Pat is the best breeder I have ever met.  Her pups are such beautiful show dogs but also live the lives of any loved pet you know.  Pat has  kennels for eating and sleeping but when her shelties are awake, they are jumping from couch to couch or playing outside.  She even puts on the TV and music for them!  I can't recommend anyone above her.
Paige Andrews
_________________________________________________________
We bought our first Sheltie, Roxy, from Pat over 5 years ago. She is the sweetest, loving and most mild tempered dog. She loves children and her family. She doesn't even bark in the house, pretty amazing. She has been such a blessing.
We decided this year to get another Sheltie. Of course, we called Pat first. She wasn't sure she would have one available but we lucked out and Parker joined the family. He is such a cuddlier and loves my girls. Roxy has become his best friend. They chase squirrels all day together. He has been a perfect addition to our family.
Another important thing to note is how healthy both dogs have been, they are perfect.
Zach and Lindsay Mayer
_________________________________________________________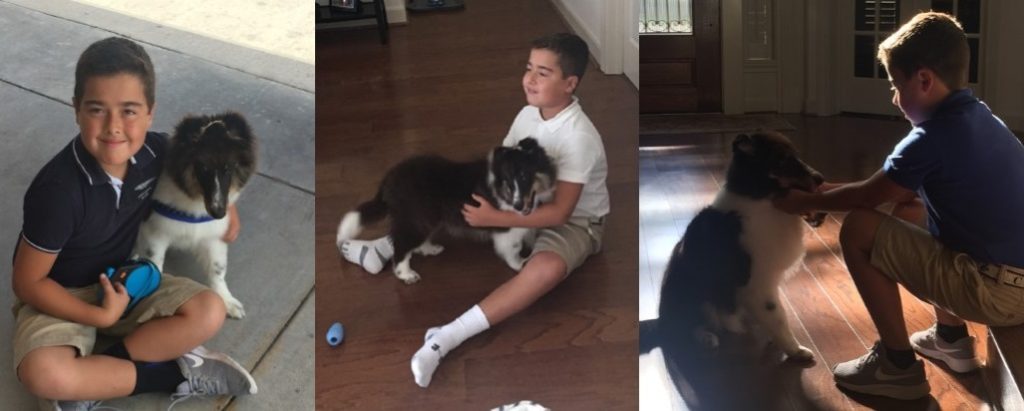 We are so lucky to have met Pat and to have found the new love of our lives, our new sheltie, Scout.   We had been talking about adding a new dog to our family for a long time.  We previously owned a sheltie who was a fantastic dog and we were already partial to the breed.  We wanted to have the same experience again with another sheltie and we started looking for reputable breeders in the area.  I found Pat through the Breyston Shelties website and it was a pleasure to talk to her and understand that there are many people that sell sheltie puppies but not all are great breeders. Many don't really care about breeding the right traits or breeding healthy puppies. All of Pat's dogs are beautiful as she mainly breeds show puppies but they are also great dogs with really good traits.  Pat had a puppy that was ready to find a forever home and when we met him we knew that he was our dog.  My son, Matthew who is ten years old fell in love with him immediately and they have formed a bond that is indescribable.  They really are best friends.  My teenage son, Garrett is also extremely happy to finally to have another dog to love.  We are all so happy with Scout because he has a great temperament, he is very smart and very sweet. Pat did a great job of socializing him and Scout is very comfortable with other people as well as other dogs.   Pat has also become a great friend and I often ask for her assistance and expertise when I need advice in relation to Scout.  You could not ask for a more caring person and one that really loves all her dogs.  We are blessed to have found Breyston Shelties and to have met Pat!
Darlene Norris
________________________________________________________
We were fortunate to find Pat Dody of Breyston Shelties when we were looking for a new Sheltie puppy, our third over the years.  Shelties' are a wonderful smart dog and make a great companions.  Pat is a dedicated experienced breeder committed to quality, not quantity,dogs.l  Her support and guidance over the years since our purchase in 2013 of Colton, a black, white and tan male, has made our experience even  better.  Colton is an outgoing, gentle, and caring companion.  If you are looking for a show dog or a companion we recommend contacting Pat.
Fred & Mary Shumaker
_________________________________________________________
Lauren after Her Retirement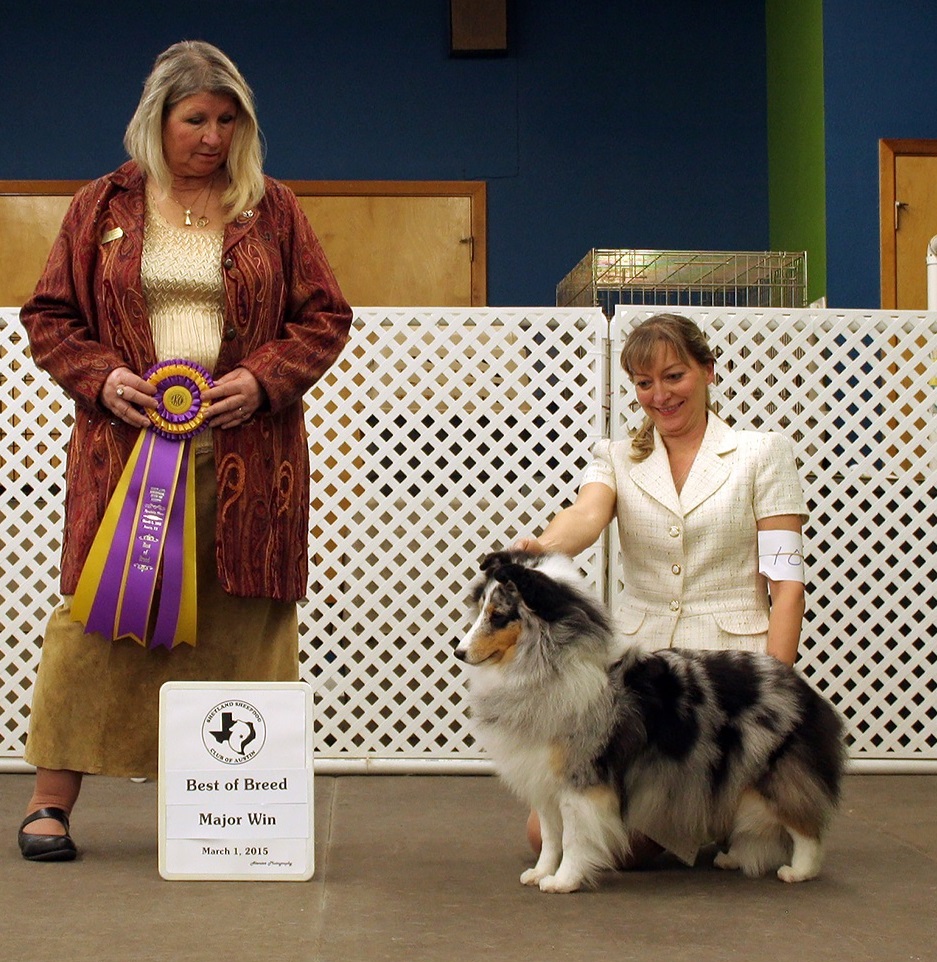 From: Show Dog
(Multiple Best of Breeds)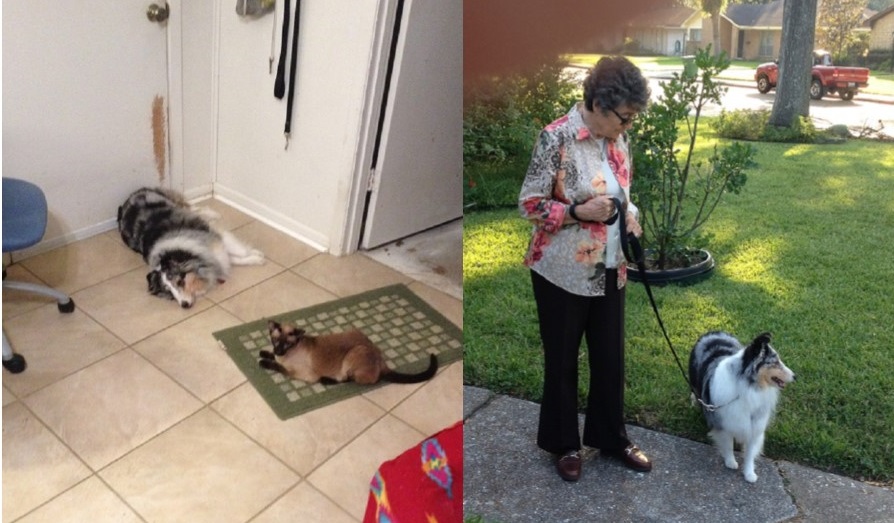 To: The Easy Life in the suburbs!
"BRIGID"
On 24 December 2007 the first article in the fifteen part series "Parking with Brigid" appeared in the Galveston Daily News.
It was entitled What's the purpose of state parks anyway?
This series of articles was written as we visited the 30 parks built in by the Civilian Conservation Corp in Texas during the early forties.
Ten years later – Brigid has passed away – I have retired – Lauren has retired.
So she and I are undertaking the "The anniversary tour to parks built by the CCC" to see what has happened during the past ten years to these "Jewels" of Texas that Brigid and I visited ten years ago.
So – Lauren from prize winning show dog to roving journalist!
Wish us well!
Tom Linton
_________________________________________________________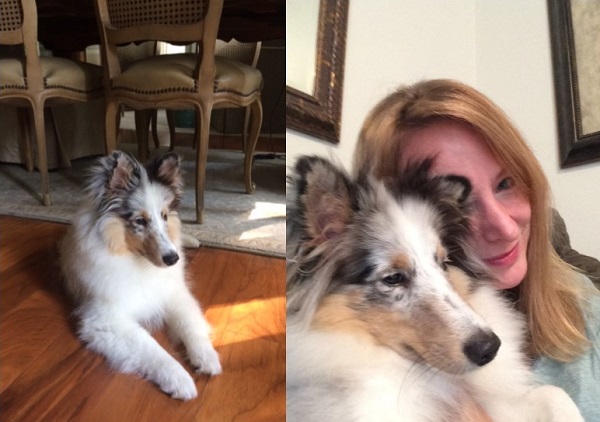 I have loved and owned shelties for over 25 years.  After losing my most beloved sheltie, Blue, I reached out to Pat Dody of Breyston Shelties.  I had met Pat several years ago and admired the beautiful shelties on her website. Pat expressed her condolences and let me know that she would help me find another sheltie when I was ready.
Months later, I saw a big beautiful blue merle male puppy on her website and contacted Pat to meet him. When I got to Pat's house, she told me that he might be a little too much puppy for me and Bella (my remaining 10 year old sheltie).  She had another litter that she thought would be too small to show and wondered if I might be interested in a male puppy from that litter. That is how I met my puppy "Luca" which means "Bringer of Light".  Luca is my first Breyston sheltie and he has brought joy and light back to my life.
He is a sweetheart, comedian, prankster and best buddy all in one. Bella took to him immediately and they play together until she is worn out.  Luca is very smart and has been so easy to train.  When I first started leash training, I designated a fire hydrant as a "treat stop" on our short walks.  When we started going on longer walks, he did not miss a fire hydrant and would pull me towards every one he saw.  Apparently, he has now designated all fire hydrants as "treat stops".  People constantly stop to comment on what a beautiful dog he is.  His coloring is amazing and his beauty takes my breath away at times.
Pat is a great resource and can give advice and support on any aspect of owning shelties.   She provides owners with a hefty puppy package with all of the information needed for a new puppy.  She obviously loves her dogs, knows their personalities and she is able to help match people to the right dog for them. I am so thankful for my Luca and to Pat for showing him to me.  Breyston shelties are the best!
Laura Pendola
_________________________________________________________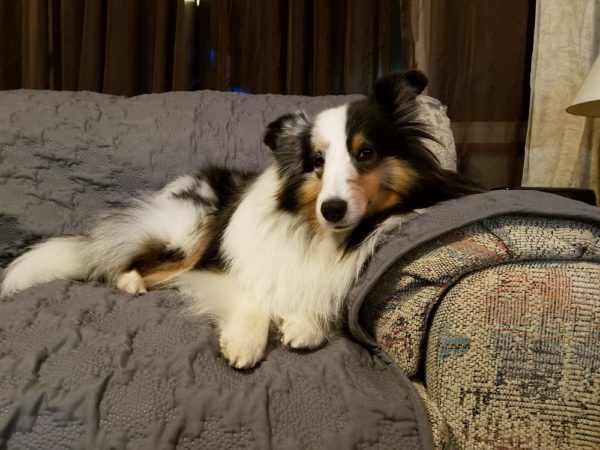 I met Pat almost 2 years ago when my co-worker shared a facebook post showing a beautiful senior sheltie looking for a forever home.  My cousin and I went to Texas and my cousin added Maddie to her family.  Meeting Pat, I felt so welcomed and could feel the love she has for her dogs.  When we left I felt like I had made a friend.
My current sheltie, Koffoy turned 5 this summer and I knew I wanted to bring another sheltie into my home.  I started looking but none were saying they were the one.  Then I saw Pat had one of her girls, a retired Champion, Prada, available.  I remembered this sweet girl and I knew she was the one.  I was so honored when Pat agreed that I could call Prada mine.  It's only been a few weeks since Prada became a part of my family, but I can't really remember what my home was like before she joined Koffoy and me.  She and Koffoy have gotten along from the start and through an unfortunate water pipe break, she has just gone with the flow.  I contribute Prada's easy going nature to Pat and how she raises her dogs.  Her dogs are well love, cared for, and socialized.  Having met other breeders, I would recommend Pat and Breyston shelties first.
In addition to adding Prada to my family, I consider Pat family.  Thank you Pat for allowing me to call Prada mine and to love and spoil her.
Julie McDermott
_________________________________________________________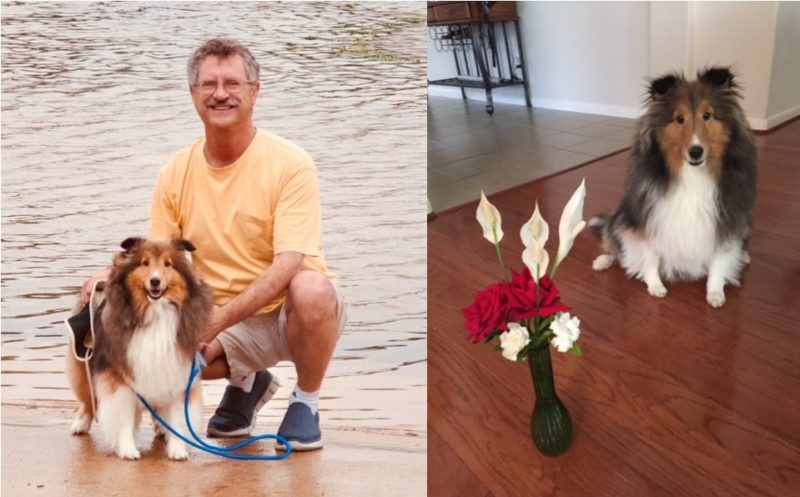 "I've always wanted a Sheltie. We felt the time was right as my husband is retired and I work from home, so after much research and inquiries, we finally found Breyston Shelties. God led us to the right place, because Pat became a friend, in addition to allowing us to adopt her Bolt.
His breeding and training were evident immediately, as was Pat's love for this beautiful dog. She obviously loves each and every one of her Shelties, and we  could tell they adore her as well.
Bolt amazes us every day with his sweet temperament, and makes us laugh with his eagerness to play and have fun.
He is in every way part of our family now, and we couldn't imagine life without him.
We are so happy that we found Pat, and that she allowed us to be part of her Breyston Shelties family. We are forever in her debt."
Donna and Jesse Gentry
_________________________________________________________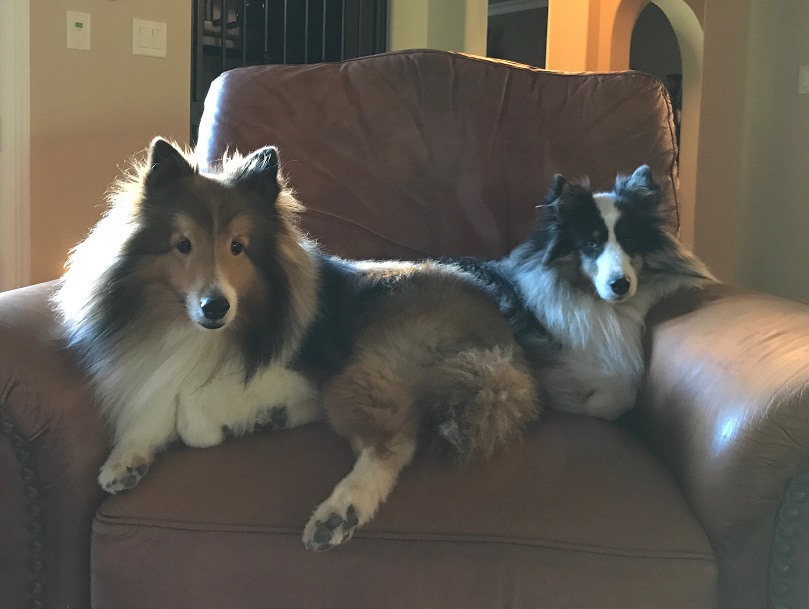 Chance and Charisse were purchased from Pat Dody of Breyston Shelties in 2010. Pat is a reputable breeder and has become part of our family. Chance and Charisse stay at her house anytime we go on vacation and love being part of the "Dody pack." I wouldn't trust anyone else to look after our dogs and would definitely recommend Breystone Shelties to anyone looking for a Sheltie
Beverly Yellowlees
_________________________________________________________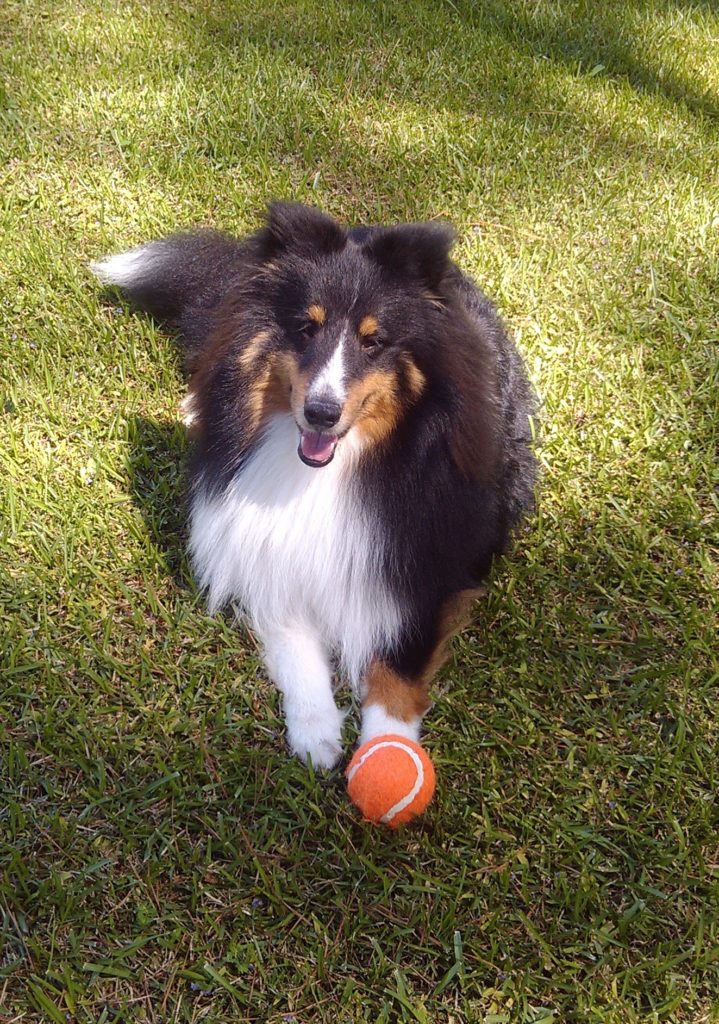 My wife and I have owned Shetland Sheepdogs since 1976. We acquired our fourth from Breyston Shelties on June 8, 2013. I am compelled to write this testimonial and recommendation for Breyston's for anyone considering a Shetland Sheepdog because I am extremely pleased with every aspect of this dog's pedigree and breeder, Pat Dody.
Although Breyston Shelties is not really a breeding kennel, Pat occasionally offers dogs as pets after a thorough vetting of perspective owners. We got our dog on his six-month birthday. He is a tri-color male, who is 15.5 inches at the shoulder and twenty pounds. His height and weight have been the same for the last three months, so I believe this will be his adult stature, which exactly what Pat predicted when we got him.
Cade, his call name for Cadence, is an extremely good example of the Shetland Sheepdog breed; by far the best I have owned He has a wonderful disposition and is extremely intelligent. He possesses great athleticism and agility. His social skills are also outstanding. We live on a secluded pine forest area with a centrally located six-acre pond. We have six neighbors, with a total of nine dogs in residence. Cade's canine neighbors include four Labrador Retrievers, two Papillions, and two Shih Tzus. These dogs share the common shore of the pond and most of them interact with each other daily. Cade is a newer member of the pack and was assimilated without incident within just a few days of his arrival. He now works twice a day with the one of the Labs who is being trained to retrieve ducks. In January Cade will begin herding and agility training with a local Australian Shepard breeder.
I retired right after we got Cade and now look forward to many years here with Cade at my side. A wonderful companion who has quickly become an integral part of our everyday life.
Joseph P. Palestina, Jr.
_________________________________________________________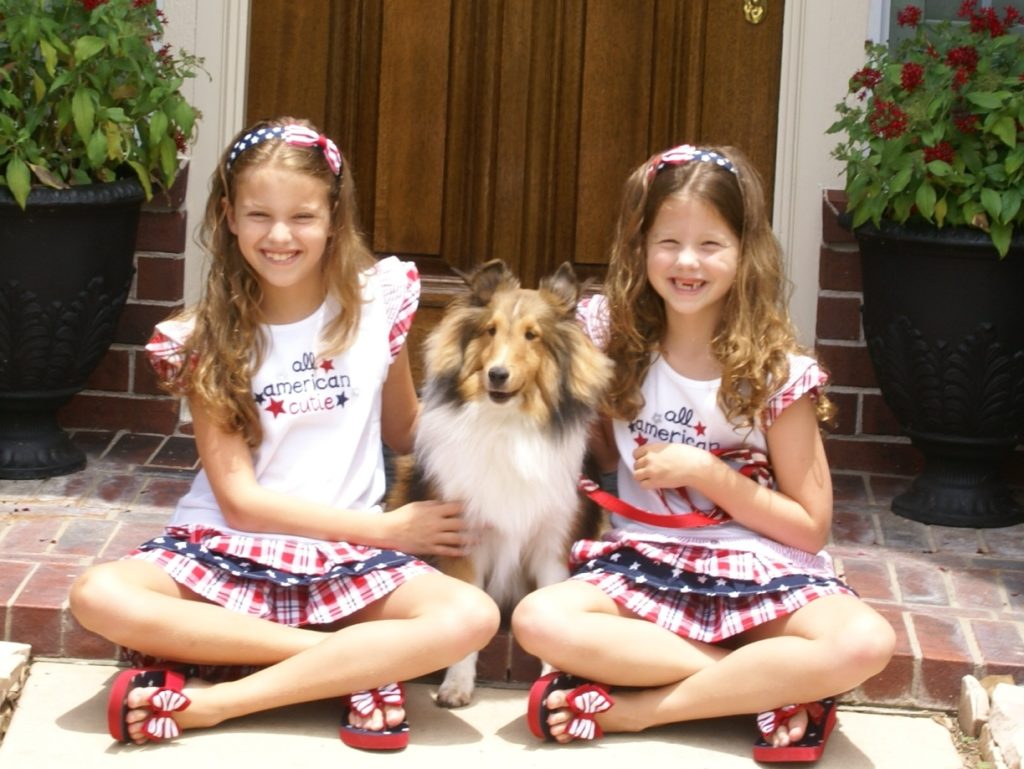 We lost our 12 year old Sheltie on April 27th. There was a void that needed to be filled and I started looking for a Sheltie breeder. Our first Sheltie was not direct from the breeder (which I don't recommend) and I wanted to find a healthy, happy new Sheltie to join our family.
I found Breystone Shelties and starting communicating with Pat Dody. I had a good feeling about Pat from the start because I could tell how much she loves her dogs. We arranged to meet Pat on June 17th to meet Tripp, a gorgeous 9 month old boy. Pat welcomed us in to her home like we were old friends and it was so much fun to see the happy, friendly dogs, obviously loved like family members. I was amazed at how she could tell the puppies apart and at only 9 weeks old knew their personalities and treated each one like the only one.
Pat agreed to place Tripp with us and we went to her house on June 23rd and she had everything ready. I worried about Tripp leaving Pat because we could tell how much he loves her, and her him. But, Pat assured me he would love his new family. We talked about lots of grooming details and went over his diet and routine and, as much as I was excited to bring Tripp home, I really didn't want to leave. We thanked Pat and she put Tripp in my arms and it was emotional.
Meeting Pat and getting Tripp has been such a wonderful experience. We have a beautiful, healthy, downright bouncy little boy and we've made a new friend. We have plans for another Sheltie from Pat's gorgeous dogs. Not only are they healthy and beautiful, they are just AWESOME dogs!!!! Meeting Pat has been a win-win. We have a new family member and a new family friend!
Donna Hunt & Family
Proud parents of 'PaRay's Destination' Charles Tripp Hunt
_________________________________________________________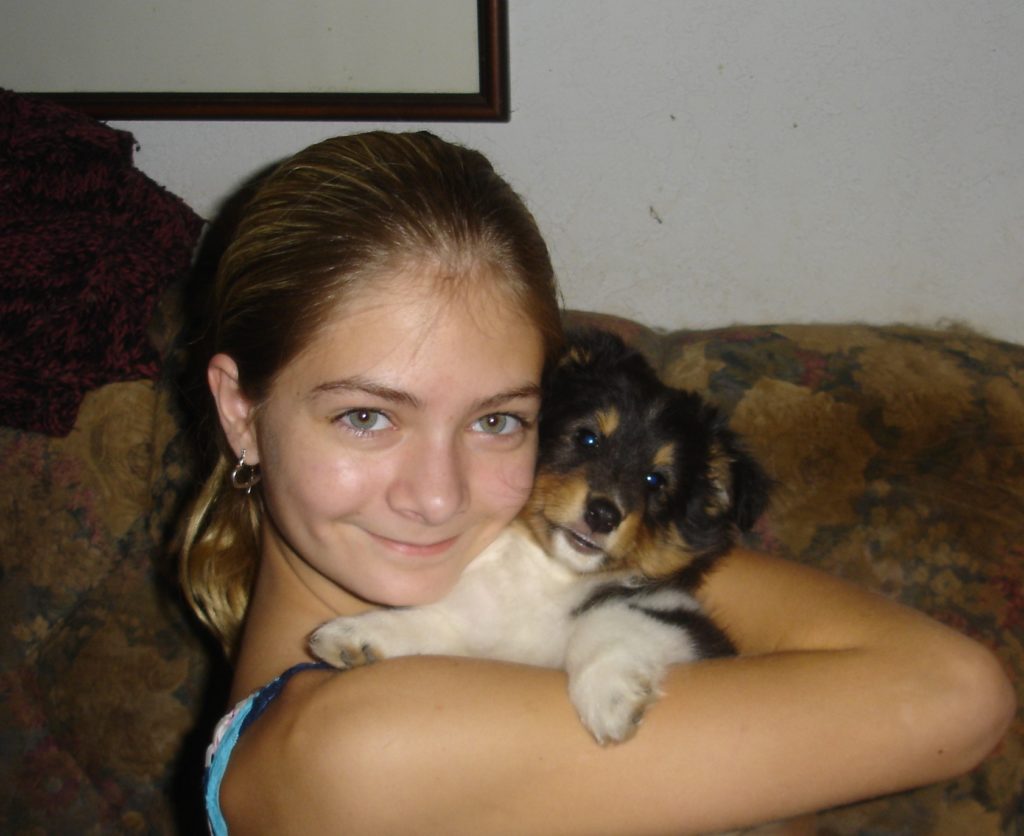 I began my search for a sheltie so my daughter would experience the joy of sheltie ownership.
I had previously owned several shelties who had since passed away over 10 years prior. I had no contacts so I searched by internet for a Christmas puppy. I was so fortunate to find Pat Dody of Breyston Shelites. My daughter fell in love with her Tri-color girl and we named her Midnight Star of Breyton. She has been a shinning star in our home every since. I wanted a quality pet from a quality breeder and I found both. I would not hesitate to recommend Pat Dody and her Breyston Shelties.
A welcome bonus was the family bond that we now share through our shelties.
We even received a Christmas card from Pat of all her dog family including Star's mother all wearing Santa Claus hats. It makes a difference to own a pet from a quality home and breeder.
Sincerely,
Vikki and Brooke Bowman
_________________________________________________________
Dear Pat,
Marissa and I want to thank you for our beautiful babies, Kit Kat and Konner Bear. Being the smallest and the largest, we have our hands full of fun, l laughter, love and entertainment 24/7! Konner has gone through obedience training with flying colors and Kit will go through it next, with Sgt. Marissa!
We hope that Konner and Marissa will do agility together and we know that we have many years of love to give and receive with these two precious puppies! We love them & you!
Pam & Marissa Harris
______________________________________________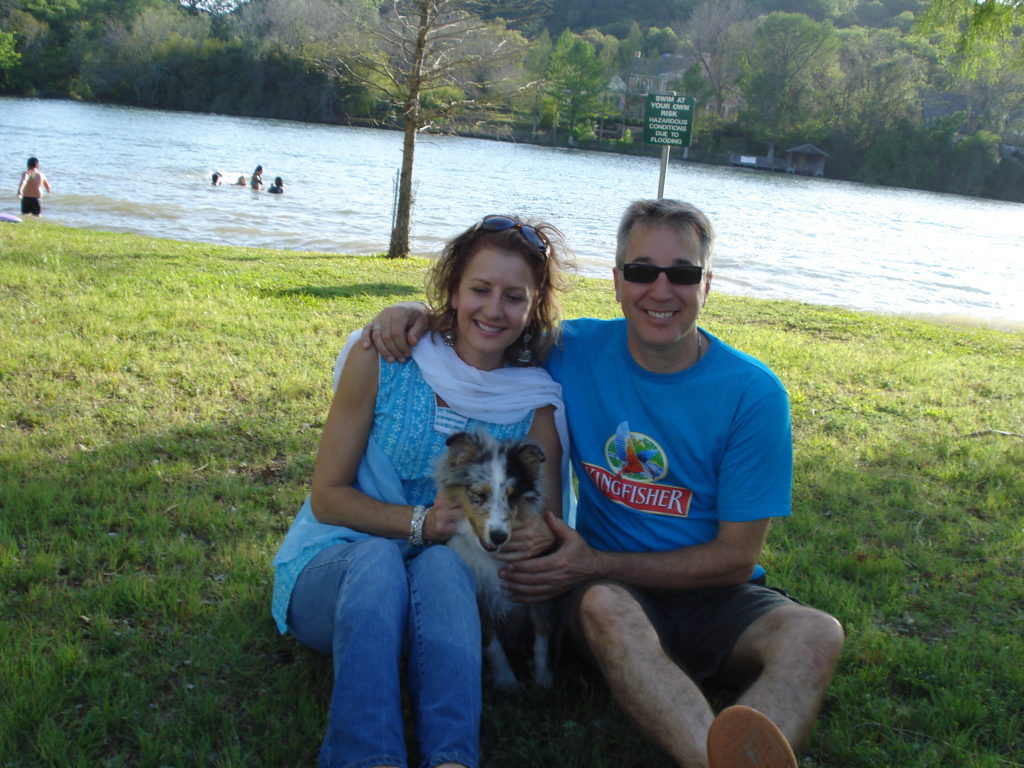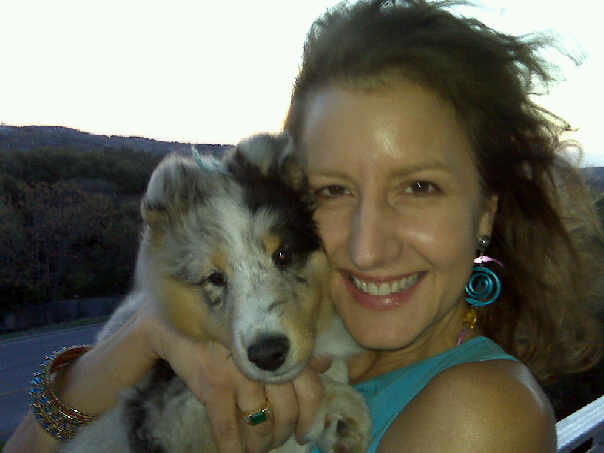 Thank you for allowing us the opportunity to adopt the loveable Sheltie puppy we know as Teryn. We have had Shetland Sheepdogs as pets for many years, but none as beautiful as this blue merle girl. As she just passed her 6 month birthday, we are thankful to be blessed with such an amazing dog.
She not only has the most spectacular coloring that we have ever seen, but she is smart and healthy and has a great little personality. Actually her personality is not little…it's BIG! And it fits her charming way so well.
It is obvious that she has very strong blood lines and is show dog quality. Your breeding is top notch. And we could tell instantly that her first several months were filled with love and play, which has produced a very well adjusted dog. She enjoys playing with children, other dogs of all sizes and breeds, and does well with quiet time at home too.
I highly recommend anyone looking for a Sheltie to adopt a Breyston Sheltie. They are some of the best and well worth the investment. You will not be disappointed.
Thank you, Pat! Sincerely,
Kathleen Evans & Steve Spada
---